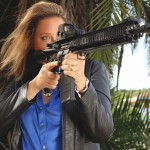 Welcome to Strong Defenses.  We believe that everyone has the right to live their lives in safe enjoyment and unfortunately sometimes we need to take that safety into our own hands.
Whether you're looking for a basic class for a new gun owner, advanced self defense techniques, a ladies only class or retreat, or even a hands-on self defense class, you've come to the right place!
If you're looking to purchase your first gun, ask us for some ideas on how to decide what's best for you based on YOUR needs.
In the meantime, visit us socially at:
www.Facebook.com/strongdefenses or www.Pinterest.com/strongdefenses
www.YouTube.com/strongdefenses or www.Twitter.com/strongdefenses
or call us at 407-448-4994 to inquire about NRA Pistol or Rifle training, Refuse to be a Victim programs, or personal safety and self defense seminars.