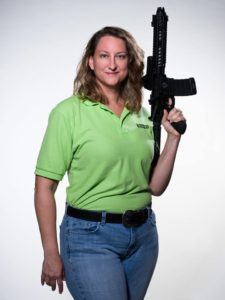 My career in the real estate industry started in 1995, but my journey to an awareness of my own safety and of those around me has probably been a part of my life since I was a small child when our family business was the target of an armed robbery.
My concerns for my safety on the job really began as a result of my own investing which often took me to boarded up houses long before the real estate crash made that common.  While peeking in the window of a house one day all of a sudden a face was peering back out at me! Might have been luck that the lockbox didn't work that day… who knows what might have happened if I had walked into the house! Shortly after that I got my concealed weapons license.  I've actually been shooting since I was a child and felt it was time to be "official".  A few years ago Tim & I decided to become instructors so we could share our knowledge with you. I've run a company that has been training real estate agents across Florida on topics like short sales, mortgage finance and law for about 15 years, so it was really just a logical step to add an Agent Safety class to our course offerings.  I am an NRA and USCCA Instructor, am certified to teach the SAFE class through the National Self Defense Institute, and an adjunct trainer for Assault Counter Tactics and the WAVE (Women Against Violence Everywhere) Program.  I am currently working on my Certified Crime Practitioner designation through the Florida Attorney General's Office.
My training style is pretty laid back, and my goal is for you to "get it" and protect yourself without a major change to your family lifestyle.
When I'm not working as a Real Estate Agent, Instructor, or on one of my investment houses, we can sometimes be found on a local film set as a firearms consultant.  We like to spend time hiking, kayaking, and taking cruises.  We're definite dog-people and they have us well trained and rule our house!
Email Me: Andy@StrongDefenses.com